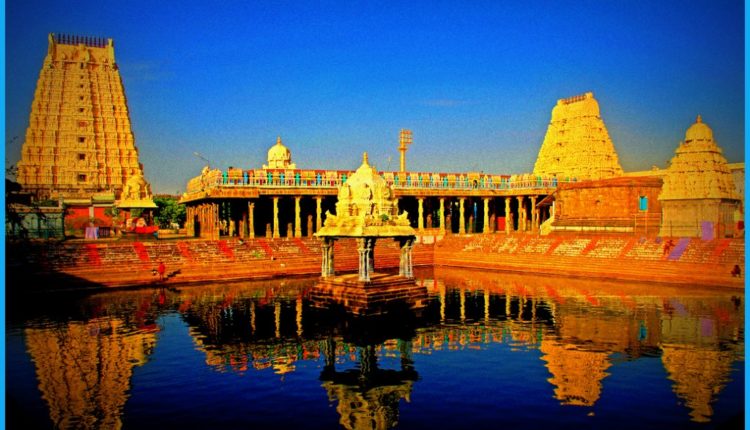 The Truth About Oldest Shiva Temples In Tamilnadu
The Secret About the Shiva Temples In Tamilnadu Only Few People Know
If some one calls Tamilnadu as a state of ancient Shiva temples then it won't be wrong. The Oldest Shiva Temples in Tamilnadu is noted in history from 7th and 9th century A.D. as per an approximative estimate.
Shiva Temples in Tamilnadu
Tamilnadu is known to host 2,500 Shiva temples of importance.
Lord Shiva temples in Tamilnadu which are famous for its reverence, has been glorified in Tamil Tevaram hymns, as the Paadal Petra Sthalangal.
It is a known fact that there are some Shiva temples which have been in existence for more than 1,000 years in Tamilnadu.
Two temples of Lord Shiva can be found with dated evidence from 7th centuries in Tamilnadu. They are situated at Thiruvotriyur district of North Chennai known by the name of Thyagaraja Swamy Temple and Kapaleeswarar Temple at Thirumayilai (Chennai).
In the following paras we are going to deliberate upon these Oldest Shiva Temples in Tamilnadu which is revered in very high esteem and where thousands of devotees still throng to pay their respect and offer pujas.
Thyagaraja Temple, Tiruvottiyur
This temple is well known as Vadivudai Amman Temple and has been dedicated to Lord Shiva.
The importance and reverence of this temple have been portrayed in the verses of Tamil poets Sundarar and Pattnathar.
Historical inscriptions from Chola dynasty of 11th century and kings of Pallavas from the 7th centuries amply Exhilarate about the importance of these Shiva temples.
There is a beautiful legend famous about the temple.

It is said that two demons by name Madhu and Kaithaba stole the famous Sanatana scripture Vedas from the abode of gods, teared it and hide it at the bottom of sea.

To recover this scripture, lord Vishnu fought these demons but could not defeat them at the first instance. Than he prayed lord Shiva and by his blessings and rewards finally he succeeded in defeating these demons.

The torn out Vedas were recovered from the sea bottom when lord Vishnu molded himself in the form of 'Matsya' and brought out the scripture at this temple to purify and reinstate it.

It is said that from this time onward the holy scripts of Vedas have been widely made available to the normal human beings who visits this shrine.

In the temple backyard there also exist a sacred tree of 'Makizha' which is famous for fulfilling the wishes of human beings and the gods equally. Many people even in the modern times visit this Oldest Shiva Temples in Tamilnadu and go to the sacred tree for fulfilling their wishes.
Recommended for you:
Kailasa Temple in Ellora Caves
What Is Sanatana Dharma ? 
Lord Aadhipureeswarar
At the temple, Lord Shiva is known as Aadhipureeswarar and lies there in the form of a mud mound. The mud mound is covered with an armor which is removed on the full moon day of Tamil month 'karthigai' for offering special pujas.
There are many other idols of different gods and goddess at the Shiva temples and adjacent premises like Maa Durga, goddess Vadivudaiamman and idols of Adi Shankara and many other idols.
People associated with the Thyagaraja cult of Saivism has control and maintenance responsibilities over the temple property and their presiding deity Adipuriswarar.
This Oldest Shiva Temple in Tamilnadu has been also known as the home of the famous Hindu saint Pattinathar  who attained here his samadhi.
During the month of February and March, which is known as the month of Masi as per the Tamil calendar, historically a big festival is celebrated, which draws a very large crowd of devotees. At this temple, people worship and beg for their wishes to be fulfilled by the almighty god, Lord Shri Adipuriswarar.
Kapaleeshwarar Temple, Thirumayilai
At the Mylapore district of Chennai in Tamilnadu exist yet another very ancient temple of Lord Shiva known as Kapaleeshwarar temple.
It is said that this temple was built around 7th century CE by the Pallavas and is perhaps the Oldest Shiva Temple in Tamilnadu.
It is the best example of the cultural heritage of Dravidian Architecture. Sangam literature of the 1st to 5th centuries has cast the reference to this temple. The earliest mention of this temple can be found in 6th century Tamil literature.
The poet saint of the 7th century, Thirugnana Sambanthar has mentioned and praised these Shiva temples in his poetry works.
At this temple, Lord Shiva is worshiped as Kapaleeswarar and is housed in the form of Lingam.
One can find mention of this temple and the god in the Tamil Caiva canonical work of Tamil saint poets who were known as Nayanars.
The Shiva temples complex is administered and maintained by the Hindu Religious and Endowment Board of the Government of Tamil Nadu.
On a visit to this temple, one can witness many halls built in the temple premises to serve the pilgrims.
There are six rituals at the temple which are performed daily between 5 a.m to 10 p.m to offer prayers. In the month of 'Panguni' a big festival is celebrated at the temple complex which is known as an Arubathimooval festival which lasts for 10 days and which draws a really big crowd of devotees.
The Legendary Story about Shiva Temples in Tamilnadu
There is a legendary story about Oldest Shiva Temples in Tamilnadu which is often talked about amongst the devotees.
The legendary story describes that the god of gods Mahadev once met lord Brahma at his abode at Mount Kailash.

During the meet Brahma did not show utter respect to lord Shiva. Therefore Shiva plucked one of the head out of the three which belonged to lord Brahma.

Brahma soon realized his mistakes and out of penance visited the site of Mylapore and installed there Lingam to perform puja.

He worshiped the god to get rid of his ego and to restore back his power of recreation. Pleased with the austerity of lord Brahma, it is said that Lord Shiva restored his heads and form.

There is yet another legendary story about this place that Goddess Karpagambal, which is a form of Shiva's consort Parvati became a pea-hen due to a curse and did penance here at the temple to restore back her original form.

At this place it is also said that god Murugan who was Shiva's son received the spear from Maa Parvati to destroy the demons.

Maharishi Guru Sukracharya also worshiped here the Lingam to get back his lost eye.

At this place the legendary Ram had worshiped lord Shiva before his war with Ravana and where he finally won and brought back Sita.
This famous Oldest Shiva Temple in Tamilnadu has two entrances and are marked by the gopuram on either side.
The eastern side gopuram is about 40 meter high, while relatively the smaller western gopuram faces the sacred tank on the other side.
The priests of the Shiva temples belong to Shaivaite community of Brahmin caste and they are responsible for performing pujas and various other rituals at the Shiva temples even till date.